Buying a generator is almost a requirement for those people that live in remote areas. It is also a must-have if you are living off the grid. Choosing the right generator depends on where you live and the requirements of your rv, home or space. There are a couple of different things to consider when selecting your next generator.
What are your specific needs for a generator?
Selecting a generator means calculating what you will need in terms of power. Each generator will be able to tell you what kind of power they are able to generate. You may want to determine what your needs will be during a blackout. This means selecting the most important items to run while the power is out such as the refrigerator. Everything you are looking to run will have wattage requirements which you can add up and compare to what each generator is capable of producing.
Do you need an inverter?
A generator that comes without an inverter is a special type of generator. It is designed to run cleaner power, generate power at a certain level, and operate with a specific amount of fuel. The generator without an inverter tends to be noisier, but the power generated tends to be larger as well. This makes it an excellent generator for larger projects that require more power. Some generators can get up to 50,000 watts.
A generator that comes with an inverter is one that adjusts electronically to the demands being placed on the generator. This is a fuel-saving way to reduce the amount of fuel being used on items that do not need as much electricity. It makes the generator more efficient and produces lower emissions when operating on a lower setting.
An inverter generator is a smaller generator that is a good choice for RVs and camping. Inverter generators run more silent and can produce up to 7,000 watts or more, which are perfect for running a variety of appliance and accessories. They are extremely compact and can fit in the back of a car without taking up much space.
For more information about using propane with RVs, please read RVing and Propane: The Road to Freedom.
About Propane Generators
Propane is a very simple and convenient way to run a generator. The smaller propane tanks fit easily in a car and if you buy a larger unit the propane gas trucks can come out to fill you up at your home. Propane is easier to store than gasoline. Propane is a liquid that gets converted into a gas when it is used.
About Dual Fuel PropaneGenerators
A dual fuel generator is one that can run on propane or gasoline. This is a good thing when prices fluctuate and you want to keep your budget under control. It also allows for you to switch back and forth between fuel types depending on the needs of your household.
The Best Dual Fuel Generators of 2019
The best generator for you is the one that will fit your needs all year long and for multiple needs. If you are using your generator for welding or other projects that will draw large amounts of electricity you will want to go with a heavy-duty machine. If you are simply trying to keep your food fresh during a blackout, camping, or full-time rv'ing than your options are wider. Here are a few choice generators:
1. Champion 3400 Watt dual Fuel RV Ready Portable Inverter Generator with Electric Start
The Champion 3400-Watt Dual Fuel RV Ready Portable Inverter Generator with Electric Start has 192cc engine that can run on gasoline or propane. It is quiet running at 59 dBA and will run for 14.5 hours on propane fuel or 7.5 hours on gasoline. It comes ready for an RV plug-in and a convenient "quick start" switch that is electric.
2. Champion 100110 9200W/1150W Generator 459cc w/Wheel Kit
The Champion 100110 9200W/11500W Generator 459cc w/Wheel Kit
is one of the toughest models on the market. It is a reliable generator that comes with intelligauge monitoring features for output and Volt GuardTM protection to prevent against surges and system overloads. It has an electric start and is perfect to run a home during a blackout. It is also powerful enough to handle personal projects.
3. Westinghouse WGen7500DF Dual Fuel Portable Generator 7500 Rated Watts & 9500 Peak Watts. Gas or Propane Powered, CARB Compliant.
The Westinghouse WGen7500DF Dual Fuel Portable Generator – 7500 Rated Watts & 9500 Peak Watts – Gas or Propane Powered – CARB Compliant dual engine comes with 9,500 peak watts and 7,500 watts for gasoline. It has a push-button start and the capabilities of remote starting. The generator is designed to run for 16 hours on 6.6 gallons of gas. The transfer switch is an L14-30R. It is a more modern energy-efficient generator and comes CSA, EPA and CARB compliant. This heavy-duty unit is 194 pounds, but it does come with wheels to make it easier to move.
4. Generac GP3000i Super Quiet Inverter Generator, 3000 Starting Watts with PowerRush Technology.
The Generac GP3000i Super Quiet Inverter Generator – 3000 Starting Watts with PowerRush Technology Super Quiet Inverter Generator is unique among generators. It has multiple modes to suit the needs to the owner including an economy mode which adjusts engine speeds and reduces noise. The generator comes with PowerRushTM Technology which generates more power and the starting of the generator.
It gives 50% more power at the first startup. This is ideal when combined with their True Power TM Technology. This feature makes the electricity perfect for running power tools and appliances. The design of the unit makes it small and compact. It is also only 55.6 pounds. The unit comes Parallel Ready so two inverter generators can be connected for more power if it is needed.
5. Champion 3800 Watt RV Ready Portable Generator with Wheel Kit
The Champion 3800-Watt Dual Fuel RV Ready Portable Generator with Electric Start
is the perfect gasoline or propane dual fuel generator to buy for the power it generates and the 10.5 hours of run time for a propane tank or the 9 hours for the gasoline tank. It comes with 224cc engine and features Volt GuardTM and Cold Start Technology. This protects the unit from overloading and allows for the user to be able to start it during cold weather.
---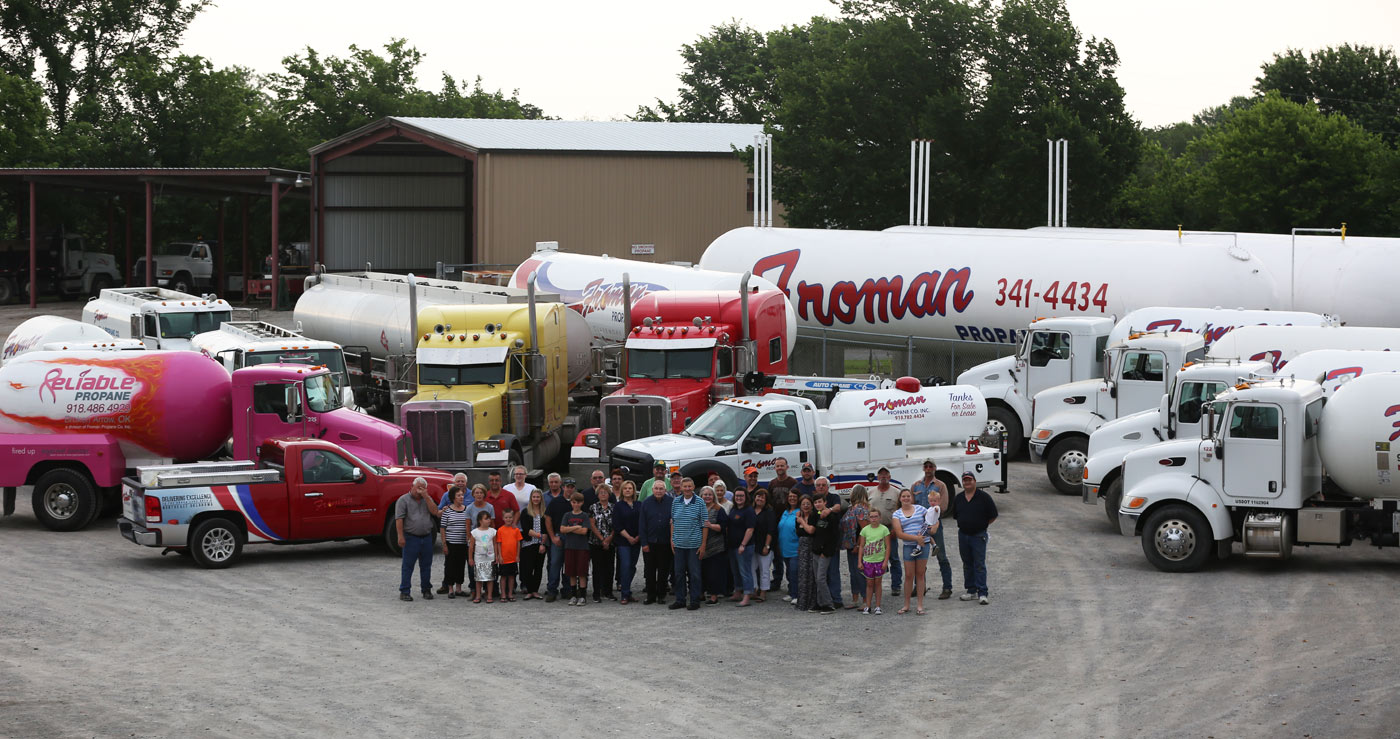 Froman Propane is your #1 propane supplier for Commercial, Residential & Agricultural Propane serving Northeast Oklahoma in Rogers, Tulsa, Miami, Wagoner, Washington Counties and the Grand Lake Area. Froman Propane can fuel all your needs.