Propane Safety
Propane safety is critical for enjoying grilling throughout the summer. The best way to remain safe is by following the tips defined below.
Propane Tank Inspection
If you are still new to caring for your propane tank, have your gas grill inspected shortly before the summer begins. A professional has the experience to see a cracked hose or a faulty wire. They also have the necessary tools to safely make any repairs necessary.

Transporting Your Propane Tank
Make certain your propane tank remains in an upright position during transport. This is important for both empty and full tanks. Your best option for transport is the bed of a truck. You can also place your tank on the floor in the back seat of your car. Do not make any other stops along the way. Drive right to the destination to drop off your tank. If you make stops, your propane tank will be exposed to the heat of your vehicle. This can cause an expansion of any liquid contained in your propane tank resulting in the propane igniting. Bouncing or rolling can result in a puncture or dent in your tank.
Once you have returned home with a full tank, remove it immediately from your vehicle. Make certain the cylinder valve is closed prior to placing the propane tank in your vehicle. During transport, you should always use a cylinder plug. Even if you believe your tank is empty, there may be some propane remaining. This can leak into your vehicle and start a gas fire. Propane has no odor. This being said, there is an additive to ensure you will be aware of any leakage. If you are driving and smell rotten eggs, pull over immediately. Remove the propane tank from your vehicle and call for professional assistance.
Purchasing a new tank is a much better option than being physically harmed. You can also arrange for a cylinder exchange if you do not want to transport your tank. Numerous companies offer this service.
The Manufacturers Instructions
When you purchase a propane tank or grill, store the manufacturer's instructions in a safe place for future reference. You need to store your gas grill in a safe location. Make certain your grill is level and completely clear of any flammables. This includes outdoor furniture, trees and overhangs. Use your manufacturer's instructions to check for leaks every summer and when you are installing a new propane tank. Adhere to the lighting procedures of the manufacturer including not leaning directly over your grill while lighting and keeping the lid open.
If your grill does not light, turn off the gas. Refer to the troubleshooting section of your manufacturer's instructions. Do not attempt to relight your grill for at least fifteen minutes. Always remain by your grill and never leave it unattended. To light your grill, open the lid and ignite your burners in order. This will prevent any gas from building up. You must be careful when lighting your grill to avoid the potential of a flashback.
Checking Your Grill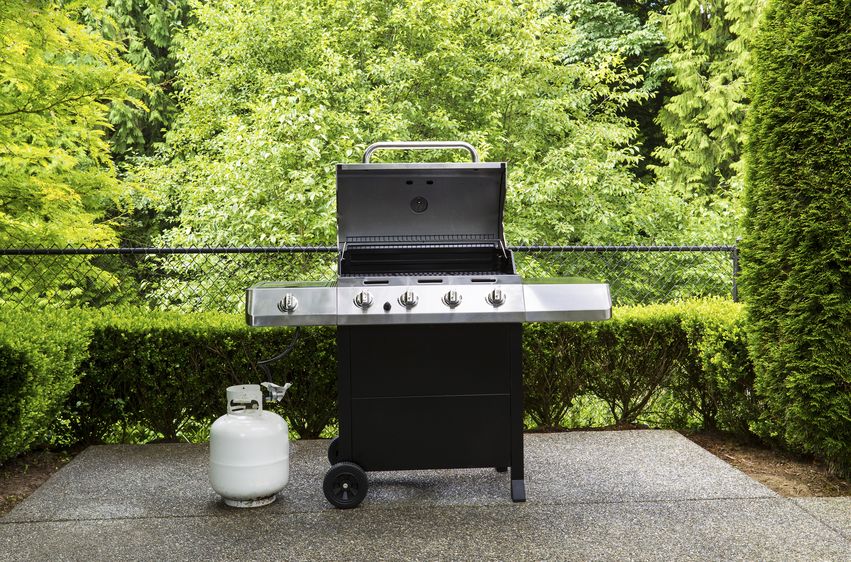 Make certain there are no hoses that may make contact with the hot surface. Thoroughly clean any grates or trays that may have old grease. If you are using a wire brush, be extremely careful. Some of these brushes can break or split leaving pieces in hidden areas. This can cause issues while you are grilling. Your best option is to purchase one of the safer bushes available. Do not use your grill unless it is clean. Grease left from last year can result in a serious fire as well as burning your food. Look for any damage prior to lighting your grill such as signs of leakage, corrosion, excessive rust and major dents.
If you have any doubts regarding the safety of your propane tank, do not use it. Replacing your tank is preferable to any potentially serious issues. If you see any damage or kinks in the hoses, do not use your grill until they have been replaced or repaired. To make certain you have adequate ventilation, always use your grill outside. Do not store your propane tank in any indoor location including a garage or storage shed. The heat from the summer can result in your propane tank exploding.
You will avoid burns by using barbeque utensils with long handles. As soon as you are done cooking, turn off your burners and the cylinder valve so you do not forget. It is always a good idea to have a fire extinguisher nearby in case of a fire. Never perform any alterations or modifications to your gas grill or propane tank by yourself. If there is something in particular you want to be done, contact a professional.
The Flammable Objects
You need to place your gas grill away from the side of your house. Be careful of deck railings, low hanging utility lines, children's toys, pets, children, bushes and anything that represents a potential fire hazard. Your grill should be a minimum of ten feet away from all of these objects. If you are planning a barbeque and it begins raining, cook your food on your stove. A gas grill is meant to be kept outside at all times. Your best weapon to ensure safety is your own common sense. If something seems like it may not be safe, do not do it. When you mow your lawn, remain a minimum of three feet away from your propane tank.
---
Froman Propane is your #1 propane supplier for Commercial, Residential & Agricultural Propane serving Northeast Oklahoma in Rogers, Tulsa, Miami, Wagoner, Washington Counties and the Grand Lake Area. Froman Propane can fuel all your needs.