What a great honor it is to be chosen by the Claremore Area Chamber of Commerce business of the month in Claremore, OK! A lot has changed since 1962 when Bob and Donna opened the first full-service filling station. Here's a little bit about our history!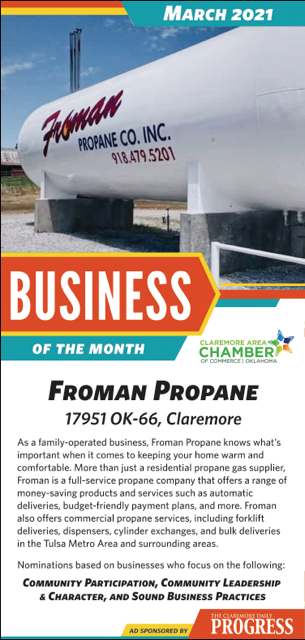 In 1962, Bob and Donna Froman decided to put what little they owned on the line, along with what they could beg and borrow to start their own business. It all started with a Full-Service filling station at the "Y" on Hwy 20.
They remained in the service station business until 1972 when they became commissioned bulk agents for Skelly Oil Co. They survived the oil shortages of the 70s, while still being able to deliver full-service gas and diesel services to the farmers, ranchers, contractors, and fuel dealers of Rogers County. Then in the early-70s, they purchased the bulk wholesale business from Skelly Oil Co, and Froman Oil Co was born.
In 1984, Bob Donna, and their sons, Cary and Kevin realized the wholesale business had outgrown the 1200 sq ft building on railroad property in downtown Claremore. With no room for expansion, it was time to move. They moved north of Claremore on Historic Route 66 to the present location. There were 6 acres and they built a new building with modern amenities. Later that year after settling into a new facility, expansions were happening again as they established the propane side of the business.
In the early 2000s, the Claremore facility upgraded their cylinder filling station to fill 20# to 100# cylinders, motor homes, and autogas vehicles on site. As the company grew in size the Claremore facility was expanded and expanded.
After 2011 all of the grandchildren had graduated high school and many were starting to work at the family business full-time. In 2013, Cary, Kevin, and Donna had quickly realized that it was time to expand again now that the next generation was stepping in. In April, Froman Propane Co acquisition Reliable Propane, a company that had offices in Claremore and Broken Arrow. With this acquisition, the service area grew to twice the size,  as well as, expanding our commercial propane services throughout the Tulsa Metro and surrounding areas.
In 2015, we had the opportunity to grow our area on the shores of Grand Lake. We hired Jim Smart as our salesman and serviceman. Jim had been in the propane parts business at the Tom Gorman Company many years ago and had a wealth of propane knowledge. He currently was serving as the chief of Tia Juana Fire Dept and was a respected community man at Grand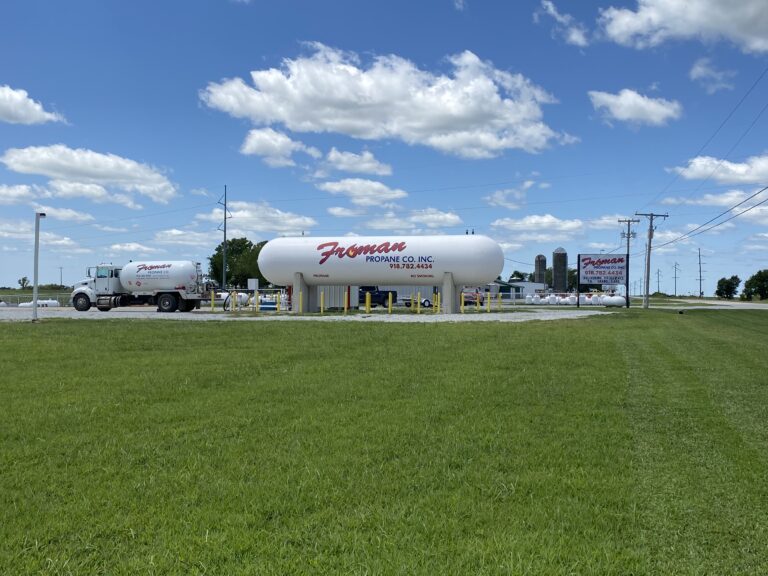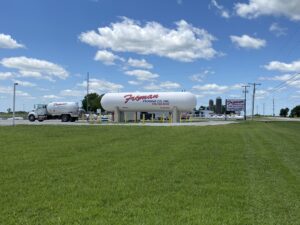 Lake. Over the summer we found a shop in Pensacola where we added a propane storage tank and expanding the Grand Lake service area.
During this time, the Claremore office has been expanded two more times to build more offices, as well as, a larger shop for working on the trucks and fabricating our own propane dispensers. The Claremore office also upgraded their gas and diesel fueling station to pumps that accepted credit cards and are available 24/7. We have added many satellite storage tanks, including Chelsea, Chouteau, and Skiatook, so the drivers could stay in their service areas and get propane to their customers more efficiently.
In 2020, while the decision was hard to make during a possible pandemic, Froman Propane Co expanded to Locust Grove, OK. Through the acquisition of Downing Propane & Oil, Regan and Jo K joined the team and continue office operations in Locust Grove, OK.
Currently the company has over 30 employees spread from the shores of Grand Lake to Broken Arrow, OK. We are very fortunate to have the Frofamily Team that has been with us for many years and we give them all the credit for our company being successful. We appreciate all of our customers, whether you have been with Bob, Donna, and the boys since the beginning or just recently started the journey with Froman Oil & Propane Co!
We look forward to where the journey leads!